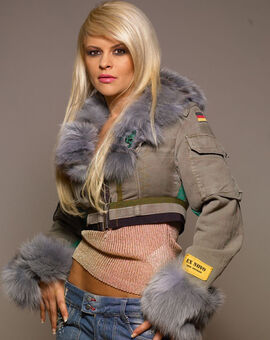 Sanda Ladoși is a Romanian singer who represented Romania in the Eurovision Song Contest 2004 in Istanbul with the song I Admit, which finished in 18th place.
She was also that year's recipient of the eighth Barbara Dex Award for being the worst dressed competitor.
Sanda has worked with several well-known composers in Romania such as Eugen Mihăescu, Marcel Dragomir, Ionel Tudor, Cornel Meraru, Mihai Constantinescu, Alexandru Simu, Raimond Vancu, George Popa, and Dan Iagnov. Iagnov has composed more than 50 songs for Sanda during her career.
She has performed duets with Romanian stars such as Marcel Pavel, Ștefan Iordache, Ioan Gyuri Pascu, and Aurelian Temișan. She has performed at numerous concerts across Romania and at numerous summer festivals abroad.
Eurovision Song Contest 2004
Artists
Semi Final: Jari Sillanpää • Aleksandra & Konstantin • Piero & the MusicStars • Fomins & Kleins • David D'Or • Marta Roure • Sofia Vitória • Maryon • Linas & Simona • Platin • Neiokõsõ • Tomas Thordarson

Grand Final: Ramón • Tie Break • Knut Anders Sørum • Jonatan Cerrada • Željko Joksimović • Julie & Ludwig • Re-Union • Max • Anjeza Shahini • Ruslana • Ivan Mikulić • Deen • Xandee • Julia Savicheva • Toše Proeski • Sakis Rouvas • Jónsi • Chris Doran • Blue Café • James Fox • Lisa Andreas • Athena • Sanda Ladoși • Lena Philipsson

Songs
Semi Final: Takes 2 to Tango • My Galileo • Celebrate • Dziesma par laimi • Leha'amin • Jugarem a estimar-nos • Foi magia • Notre planète • What's Happened to Your Love? • Stay Forever • Tii • Shame on You

Grand Final: Para llenarme de ti • Du bist • High • À chaque pas • Lane moje • On Again... Off Again • Without You • Can't Wait Until Tonight • The Image of You • Wild Dances • You Are The Only One • In The Disco • 1 Life • Believe Me • Life • Shake It • Heaven • If My World Stopped Turning • Love Song • Hold Onto Our Love • Stronger Every Minute • For Real • I Admit • It Hurts