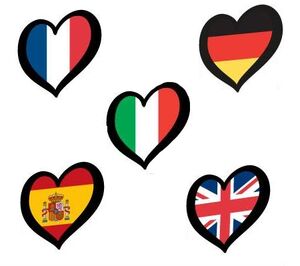 The 
"Big Five" (formerly "Big Four")
are the group of countries who make the biggest financial contributions to the European Broadcasting Union (EBU).
In 2000, a rule was created to allow those countries direct entry into the final of the Eurovision Song Contest regardless of their placing in the previous year's contest, fear of relegation, or having to go through a semi-final round.  With the return of Italy to the contest in 2011, the Big Four became known as the Big Five.
With the introduction of the semifinals in 2004, the maximum amount of entries allowed in the final were capped at 24 from 2004-2007, and 25 from 2008-2010.  As of 2012, this maximum cap now stands at 26: the Big Five, the host nation, and the 10 qualifiers from each of the two semifinals. Their only other requirement, aside from voting in the final, is to broadcast and vote in their assigned semifinal.
The only exceptions to this rule occurred in 2011 and 2015. In 2011, Germany (which was the hosting nation) was also a Big Five country, so the entries for the final were capped at 25 (this would occur any time a Big Five country wins the contest in the future). When Australia made its debut in 2015, it was given an automatic pass to the final as the guest nation, capping the entries at 27.
All five of these countries have won the contest at least twice. Germany was the first of these countries to win since the introduction of this rule.
Members of the "Big Five"