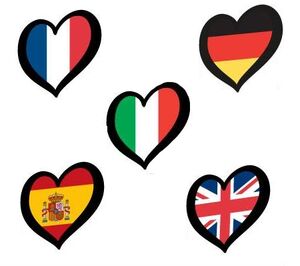 The 
"Big Five" (formerly "Big Four")
are the group of countries who make the biggest financial contributions to the European Broadcasting Union (EBU).
In 2000, a rule was created to allow those countries direct entry into the final of the Eurovision Song Contest regardless of their placing in the previous year's contest, or having to go through a semi-final round.  With the return of Italy to the contest in 2011, the Big Four became known as the Big Five.
With the introduction of the semifinals in 2004, the maximum amount of entries allowed in the final were capped at 24 from 2004-2007, and 25 from 2008-2010.  As of 2012, this maximum cap now stands at 26: the Big Five, the host nation, and the 10 qualifiers from each of the two semifinals. Their only other requirement, aside from voting in the final, is to broadcast and vote in their assigned semifinal.
2011 and 2015 were the only exceptions to the 26-entry maximum. In 2011, as the host country (Germany) was also a Big Five country, the entries in the final were capped at 25. In 2015, the entries in the final were capped at 27 due to Australia's participation as a guest entry, where they had been given a direct pass to the final.
All five of these countries have won the contest at least twice. Germany was the first of these countries to win since the introduction of this rule.
Members of the "Big Five" 
Ad blocker interference detected!
Wikia is a free-to-use site that makes money from advertising. We have a modified experience for viewers using ad blockers

Wikia is not accessible if you've made further modifications. Remove the custom ad blocker rule(s) and the page will load as expected.